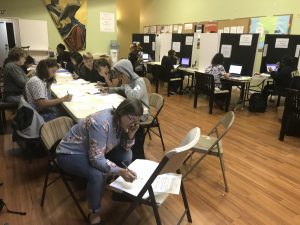 CONGRATULATIONS AND THANKS TO OCO LEADERS: Let's celebrate wins for our campaigns against state Proposition 5 and for Oakland Measures Y and W!
OCO leaders joined the efforts of PICO California federations and allies across California to defeat statewide Proposition 5 and protect funding for our schools and local services. Prop 5 would have cut at least $1 billion a year in funding for California schools, health, emergency and community services by allowing a special property tax discount that would have benefitted some high-income homeowners over 55.
Here in Oakland, OCO and Oakland voters gave thumbs up on Measures Y and W. Measure Y protects Oakland renters by repealing an exemption to an Oakland ordinance that allowed for eviction without just cause for tenants of owner-occupied duplexes and triplexes. Measure Y creates a special parcel tax on vacant properties, which encourages the owners to put the property back into use and benefit the housing market. Revenues raised by the tax will be used to fund programs that address homelessness and combat illegal dumping.
About our setbacks: Proposition 10 was not approved by voters. It would have repealed the Costa-Hawkins Rental Housing Act and allowed local communities theability to implement rent control to meet their local needs. Know this: Eight of the largest real estate investment firms in the country invested over $40 million to defeat Prop 10.The No on 10 campaign raised almost four times more than the Yes campaign, spreading deliberate lies designed to confuse and scare our community.
Eyes on the Prize: The mid-term results—victories and losses—leave us more committed than ever to move now, strategically and powerfully, on behalf of our communities' and families' interests in the 2020 elections. This includes organizing to pass the Schools & Communities First initiative, which thanks to OCO and other PICO CA leaders getting petitions signed across the state, has qualified for the ballot in 2020. Let's all figure our place in this continuing work and get busy! Stay tuned for more details in the coming weeks and months!
http://www.oaklandcommunity.org/2018/11/14/congratulations-and-thanks-to-oco-leaders/