Thank you who all who attended the Listening Campaign Launch in September.  It was a great start to the exciting listening starting in our organizations.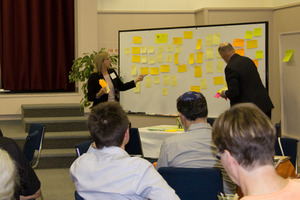 Check out more photos on Facebook
Listening campaigns are important work.  We know how valuable it can be for individuals to be able to talk with others about the pressures they're feeling, to know that others care, and to build deeper relationships among our members.
The listening campaign will continue on the following timeline.
Leaders Check-In Meeting
Friday, December 2 – 9:30 – 10:30 AM, Catholic Archdiocese Pastoral Centre, 8421 101 Ave. Northwest, Edmonton
We will check in on the how the Listening is going for those who have the process underway and share strategies for those who are still planning or about to start.
GEA-wide Discernment Assembly
Wednesday, February 15 – 7:00 – 8:30 PM, Location TBA
We look at everything that surfaced during the Listening process, prioritize the problems we want to act on together, and launch Research-Action Teams to begin the work of developing concrete action proposals and campaign plans.
Organizing Fundamentals
Thursday, March 2 – 6:00 – 9:00 PM, Location TBA
We will provide an abbreviated introductory training on GEA / IAF principles and practices as a pre-requisite for anyone who will be participating in the Research Action Teams, and who has not yet attended a GEA Leadership Institute.
Research-Action Team Training
Date and Location TBA
We will convene all of the Research Action Teams together for a joint initial training.  We will then break  into teams to figure out first next steps and meeting dates.
We look forward to working with all of you to create a better Edmonton / Alberta for everyone! Please contact us if you have questions or need more information.
http://greateredmontonalliance.com/2016/11/28/listening-campaign-launched-here-is-the-timeline/